A new shipbuilding standard is born

"What we saw here today and during the last model tests is nothing less than the start of a new era in ship building. It is unbelievable that the application of aerodynamical principles leads to a complete new view onto the design of a ship's hull geometry in order to substantially reduce the hull resistance and fuel consumption. Hydrodynamical and hydromechanical effects are the keys to reduce OPEX immediately." (ship model test witness at HSVA, 24 June 2022).
Liberian Registry (Liberian International Ship & Corporate Registry; "LISCR") have issued an AIP/Approval in Principle to our partner LR-Shipdesign AG during SMM 2022 in Hamburg, confirming fuel savings for an actual panamax bulk carrier project of more than 6.7%. The main engine requires 400kW less than for the original ship; this is translated into additional minus 3% fuel savings (order of magnitude, depending on sailing profile). The bulk carrier size was chosen for validation of AFT OPT technology.
The overall achievement can reach even more than 10 (ten) % as during the optimisation only a limited number of parameters were touched for purpose of comparison w/original design.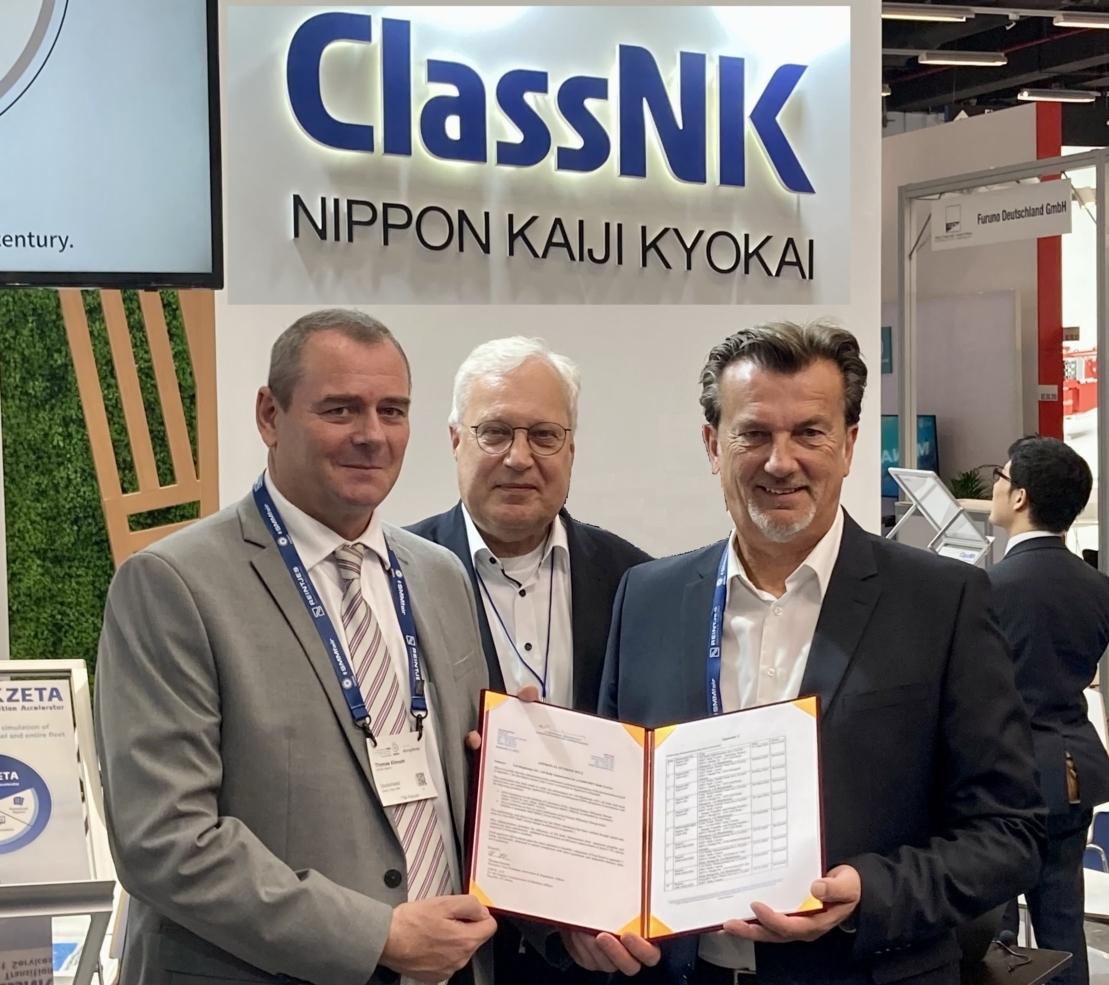 (front: Mr. T.Klenum/EVP LISCR, Mr. R.Lindinger/MD LR-Shipdesign; back: Dr. V.Wasmansdorff/MD Movena)
QUOTE LISCR reg. AIP:
This Administration considers the efficiency of Aft Body Optimization (incl. optimized propeller and rudder) has been satisfactorily validated to demonstrate an efficiency improvement of about 6.7% with about 400 kW less main engine power (equal to about 3 rpm), and an Approval in Principle is awarded.
Final approval will be based upon the items detailed in ClassNK's Statement of Fact listed in appendix 1 being satisfactorily addressed to ensure compliance with above guidelines and applicable statutory rules and regulations.
UNQUOTE
The AIP was issued in connection with a SOF/Statement of Fact, issued by ClassNK on 6 September 2022 after thorough analysis of HSVA model test reports. The EVP of LISCR, Mr. Thomas Klenum, in charge of "Innovation & Regulatory Affairs" personally joined the relevant tests in April and June 2022 in person. Other classification societies used the HSVA live stream during the test runs.
Congratulation to our exclusive partner LR-Shipdesign AG (patent holder) and to the business partners MAN Energy Solutions (propeller) and Loewe Marine (rudder) as well!
Remarks regarding the core technology:
AFT OPT design delivers a much better flow of more water towards the propeller's z-axis due to the hydromechanical and hydrodynamical optimisation. AFT OPT is an integral part of the hull form. Designs with AFT OPT are protected under the world wide patent protection scheme for this innovation.
Energy savings devices are NOT required for ship newbuildings. AFT OPT is therefore maintenance free and increases the efficiency of air lubrication systems as well due to the vectors of stream lines. The patented hull design allows bulkers/tankers to comply w/EEDI and CII requirements and to even sail faster with less fuel consumption.
The cost for testing new designs is very much limited (CFD with AFT OPT proposal and savings forecast); prior to a ship building contract, model tests are required to validate the expected efficiency increase. Cooperation partners include HSVA and Vienna Model Basin.
Return on investment into AFT OPT innovation:
less than one year (all ship types and sizes); considering production and operating cost incl. of fuel and CO2 tax consideration (calculated w/90 USD/ton of CO2).
Acknowledgements:
LR-Shipdesign and MOVENA would also like to thank the managers of HSVA for their scientific support and in particular ClassNK and Liberian Registry for their participation and validation of AFT OPT technology in the course of the last 12 months.
Liberian Registry issued the following PR note:
https://www.liscr.com/blog/flying-flag-decarbonization-gain-competitive-advantage
Further information can be provided by the patent holder Mr. Roland Lindinger, (LR-Shipdesign AG)

https://movena-group.com/wp-content/uploads/2022/09/AIP-LISCR-202209-header-extract1.png
737
1303
Dr.-Ing. Volkmar Wasmansdorff
https://movena-group.com/wp-content/uploads/2020/10/movena-group.png
Dr.-Ing. Volkmar Wasmansdorff
2022-09-15 14:17:26
2023-01-06 12:45:21
A new shipbuilding standard is born